CQ collaborates with several international research and educational institutions that have a similar mission to create synergies for achieving shared goals.  The Centre has also played an important role in international capacity building for teaching QHR at the graduate level and training visiting PhD students from around the globe.
LAPQS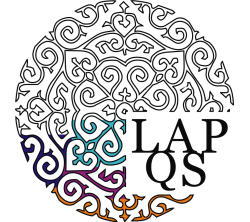 LAPQS – Laboratório de Pesquisa Qualitativa em Saúde is a collective led by Dr. Maria Lucia Bosi and researchers associated with the Department of Community Health, Faculty of Medicine, at the Federal University of Ceará (UFC), Brazil. LAPQS members are researchers from different institutions and students from the undergraduate to postdoctoral stages conducting qualitative health research projects.
Over nearly two decades of activities, originating as "the Group of Qualitative Studies in Health," LAPQS's mission is to permanently develop, through a qualitative epistemology, contributions to research and evaluation of health services, programs and policies. This mandate is expressed in various products and achievements aimed at training, research and the dissemination of results, the development of technologies and the transfer of information on health systems.
Learn more at the LAPQS website.
POLIFES (Educational Policies for Physical Education and Health Research Group)

POLIFES is a research group in the Graduate Program in Human Movement Sciences, Faculty of Physical Education, Physiotherapy and Dance at the Federal University of Rio Grande do Sul (UFRGS), Brazil. The group, led by Dr. Alex Branco Fraga, focuses on policy research in the field of physical education and its interfaces with the areas of education and public health. It welcomes projects that critically examine, mostly from a biopolitical perspective, the influences of the principles of physical activity and active living and their implications for physical culture and health education. Other topics studied include curriculum, teaching, bodily practices in health services, and health promotion programs. Since its creation, the POLIFES has developed partnerships with a wide range of institutions that include public schools, provincial and national governmental institutions, and national and international universities.
Learn more at the POLIFES website.
RedICS (Red de Investigación Cualitativa en Salud) – Qualitative Health Research Network

RedICS (Red de Investigación Cualitativa en Salud) – Qualitative Health Research Network was created in 2001. It is situated within the Nursing Research Promotion and Coordination Unit (Grupo Investen), Instituto de Salud Carlos III, Spain. RedICS aims at promoting the development of qualitative research in the fields of caregiving and health care. Through its website, RedICS connects researchers working in the field of qualitative health research as well as provides links to events and resources of interest to the scientific community. Annually, RedICS organizes training seminars and workshops, both at introductory and advanced levels. Since its creation, RedICS has become a platform for exchanging ideas, experiences, challenges in qualitative projects.
Learn more at the RedICS website.
ICPHR – International Collaboration for Participatory Health Research

The International Collaboration on Participatory Health Research (ICPHR) was established in 2009 to strengthen the role of PHR in intervention design and decision-making on health issues. The ICPHR is open to stakeholders from all countries interested in promoting the dissemination and further development of participatory health research approaches embedded in common values and principles. The work of the ICPHR is focused on bringing together systematically the knowledge and experience of PHR in different countries for the purpose of strengthening PHR regarding issues of quality, credibility, and impact on policy and practice.
The activities of the ICPHR include:
Developing guidelines for conducting and evaluating PHR
Describing the unique impact of PHR as compared to other research approaches
Describing which forms of theory and evidence are produced by this approach as compared to other forms of health research
Finding a means for conducting systematic reviews of the PHR literature in order to contribute to the body of international knowledge on improving community health
Creating a database of resources on the theory, practice, and outcomes of PHR
Learn more at the ICPHR website.
GIQS – Grupo de Investigacion Cualitativa en Salud
GIQS – Grupo de Investigacion Cualitativa en Salud, from the Universidad Autonoma de Madrid, Spain was created in 2008 by academics from several academic fields (sociology, anthropology, public health, nursing, information sciences) who shared experience as qualitative health instructors, educators, and researchers, as well as a shared commitment towards projects that address the social dimensions of health issues holistically.
Learn more  at the GIQS website.