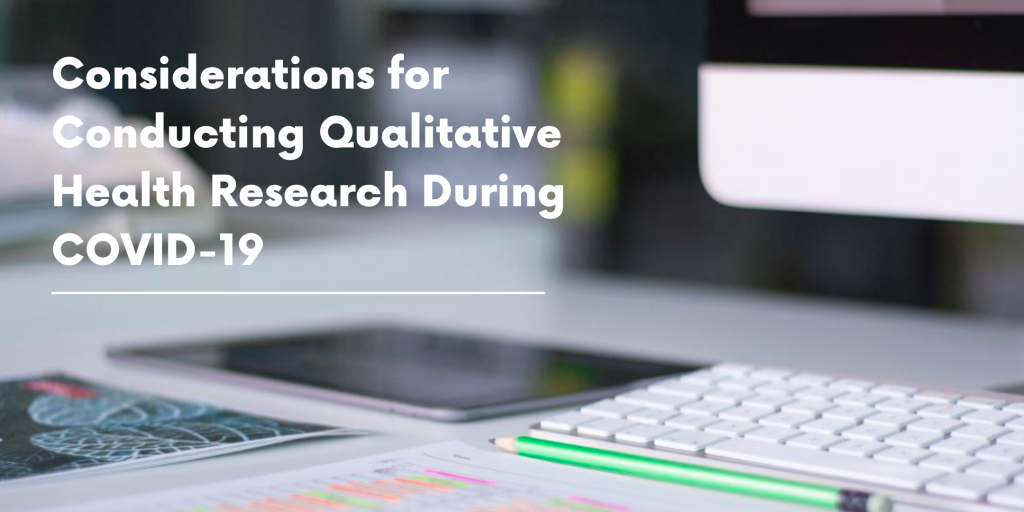 We have all been impacted by the COVID-19 pandemic. We are experiencing these impacts in personal, social, and professional capacities. We are being asked to engage in the practice of physical-distancing, thus limiting our in-person contact not only with our community of researchers, but also with our broader communities, research partners, and study participants. Physical distancing presents challenges for researchers and graduate students doing qualitative health research.
CQ's two main goals are to build capacity through teaching, continuing education, and our community of practice, and to produce new and innovative methodological knowledge. This includes the development, adaptation, and evaluation of our critical qualitative methodologies and research practices.
Currently, we are bringing together a set of resources for engaging in qualitative methods during a time where face-to-face interaction is not possible. We intend to update these resources regularly and we encourage the qualitative community to share links with us that we can all use. We aim to create a compendium that may provide inspiration or guidance to researchers working at all levels; from our graduate students to seasoned qualitative health researchers. Graduate students considerations must align with the School of Graduate Studies COVID-19 decisions and those of their PhD program director.
We also recommend that all qualitative health researchers regularly read the Health Sciences REB updates. Students are encouraged to contact the Research Ethics Office (ethics.review@utoronto.ca) for questions, or Daniel Gyewu, REB Manager, Health Sciences (d.gyewu@utoronto.ca) for a consultation.
Research and Innovation COVID-19 Information
Compendium of resources available to date: