"Learning and Teaching Qualitative Research in Ontario: A Resource Guide"
Funded by eCampus Ontario, CQ has created an ebook Learning and Teaching Qualitative Health Research in Ontario, a repository of qualitative research courses available across health sciences faculties in Ontario. It also includes an introduction to qualitative methods and educational videos that cover CQ's key pillars: foundations of qualitative inquiry, doing qualitative research and data analysis and interpretations, along with personal stories from students about learning qualitative research.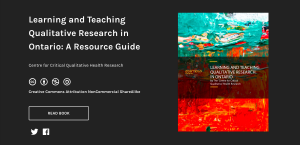 The publication is aimed at graduate students and postdoctoral fellows who want additional or advanced training and masters-prepared healthcare practitioners who may want to enhance their opportunities for research collaborations and expand their repertoire of research skill.
The book is intended to familiarise users with qualitative research methodologies and methods, course offerings in health sciences faculties in Ontario universities, and the registration information and process.  It includes educational and support materials in the form of videos and selected preparatory readings on qualitative research as well as examples of empirical contributions of qualitative methods to the health sciences.
View or download the book here  http://qualitativeresearchontario.openetext.utoronto.ca/ .  It can be navigated via the table of contents tab.
Finally, eCampusOntario is gathering data to support ongoing funding from the government for open source initiatives.  You can help by reporting any use you make of the book or videos here:  https://openlibrary.ecampusontario.ca/report-an-adoption/
Compiled Academic and Adjunct Fellows' Publications on Qualitative Health Research
CQ Academic and Adjunct Fellows have written extensively about qualitative methodology applied to the health sciences. While some are books, chapters, or articles dedicated to methodological development, other publications offer illustration of possible uses of qualitative inquiry in the health domain. A few features mark most of CQ Fellows' work: an explicit theoretical orientation, commitment towards critical inquiry, and the advancement of methods for the health sciences. To view a compiled list of CQ Academic and Adjunct Fellows' publications, click on the image below.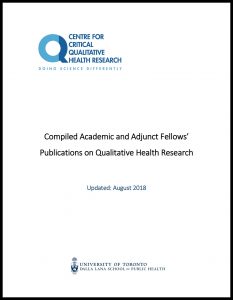 Publications on teaching
Eakin, Joan and Mykhalovskiy, Eric. (2005). Teaching against the grain: The challenges of teaching qualitative research in the health sciences. Forum: Qualitative Social Research, 6 (2), Art. 42
Hsiung, Ping-Chun. (2008). Teaching reflexivity in qualitative interviewing. Teaching Sociology, 36, 211-226.
Hsiung, Ping-Chun. (2015a). Lives & legacies: A digital courseware for the teaching and learning of qualitative interviewing. Qualitative Inquiry, 22(2), 132–139.
Hsiung, Ping-Chun. (2015b). Teaching qualitative research as transgressive practices: Introduction to the special issue. Qualitative Inquiry, 22(2), 59-71