eCampus Ontario Project 
CQ's national outreach project funded by eCampus Ontario, reflects its mission to be a hub for qualitative health research. Beginning in December 2017, the Centre created a network of qualitative instructors who teach in the health sciences across Ontario universities. This network grew from a larger initiative in which an advisory committee of qualitative research instructors from all regions of Ontario was struck to advise CQ on the development of an e-book. The book, funded by e-Campus Ontario, and entitled 'Learning and Teaching Qualitative Health Research in Ontario', is a repository of qualitative research courses available across health sciences faculties in Ontario. It also includes an introduction to qualitative methods chapter and educational videos that cover CQ's key pillars: foundations of qualitative inquiry, doing qualitative research and data analysis and interpretations, along with personal stories from students about learning qualitative research. It is geared to graduate students, master's prepared healthcare providers, and postdoctoral fellows with little or no training in qualitative methodologies. A national one-day symposium on teaching qualitative research in the health sciences will take place on October 12, 2018 at York University.
"Learning and Teaching Qualitative Research in Ontario: A Resource Guide"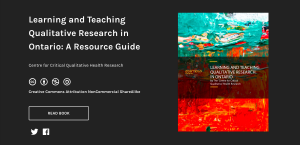 The publication is aimed at graduate students and postdoctoral fellows who want additional or advanced training and masters-prepared healthcare practitioners who may want to enhance their opportunities for research collaborations and expand their repertoire of research skill.
The book intended to familiarise users with qualitative research methodologies and methods, course offerings in health sciences faculties in Ontario universities, and the registration information and process.  It includes educational and support materials in the form of videos and selected preparatory readings on qualitative research as well as examples of empirical contributions of qualitative methods to the health sciences.
View or download the book here  http://qualitativeresearchontario.openetext.utoronto.ca/ to see how it might be useful to you in teaching or learning qualitative research.  It can be navigated via the table of contents tab.
Finally, eCampusOntario is gathering data to support ongoing funding from the government for open source initiatives.  You can help by reporting any use you make of the book or videos here:  https://openlibrary.ecampusontario.ca/report-an-adoption/