Critical Pedagogies Symposium
The Critical Pedagogies Symposium was developed as the closing event for the eCampus Ontario project. The goals of the symposium are to: inspire pedagogical innovation, dialogue and imagination; share challenges, exchange resources and brainstorm solutions; celebrate our accomplishments and push the boundaries of possibility; (re-)centre the 'critical' in our teaching practices; and cultivate a network of current and future qualitative health research educators. 
Past Symposiums
The first annual critical pedagogies symposium took place on Oct.12, 2018 at York University.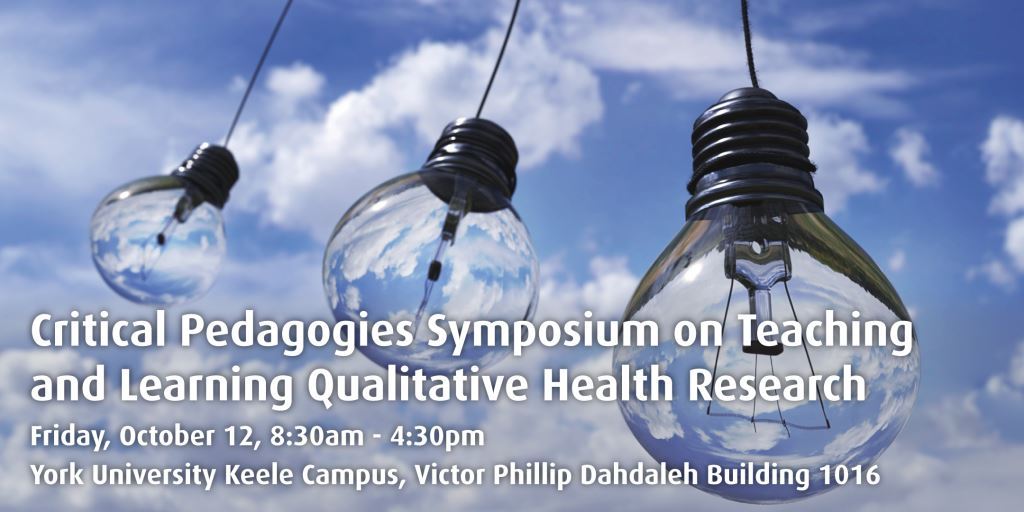 Event overview
This one-day event brought together graduate students, instructors and professionals interested in questions of pedagogy and practice.  The day was organized around playing with pedagogies, skill-building, networking and knowledge exchange opportunities. The event saw engaged participation in a fun, generative and enriching environment. We thank all those who participated and attended!
The symposium was organized by the Centre for Critical Qualitative Health Research (CQ) at the University of Toronto and hosted by York University. It was the closing event for the eCampus Ontario Project, which aimed to advance the field by strengthening the community of educators in Qualitative Health Research across the province.
Event Gallery 
Sponsors and Organizers
The Symposium was sponsored by: CQ, the Faculty of Environmental Studies at York University, the Faculty of Health at York University, and the Dalla Lana School of Public Health at the University of Toronto.
Thank you for the generous contributions in expertise and time of the members of the Planning and Scientific Committees (in alphabetical order).
Planning Committee:
Andrea Carson
Astrid Escrig Pinol
Denise Gastaldo
Jennifer Ferdinands
Sarah Flicker
Scientific Committee:
Astrid Escrig Pinol
Brenda Gladstone
Dawn Trussell
Marcia Facey
Margaret Schneider
Monica Gagnon
Sarah Flicker
Sarah Switzer