Toronto Rehabilitation Institute
University Health Network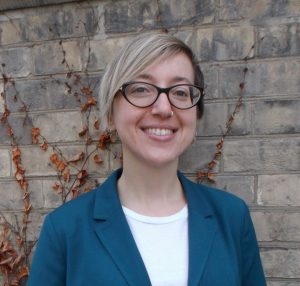 550 University Avenue, Suite 11-175
Toronto, ON M5G 2A2
Canada
TEL: (416) 597-3422, ext. 7716
EMAIL: alisa.grigorovich@uhn.ca
Websites
Alisa's main website is available to view here: www.alisagrigorovich.com
Biosketch
Alisa Grigorovich is an interdisciplinary health services and policy researcher and a CIHR Health System Impact Fellow at the Toronto Rehabilitation Institute – University Health Network. Her research focuses on health equity and quality of care, with particular attention to structural stigma, aging and disability.
In her research she uses critical theories, qualitative and mixed methods to capture how political, economic and cultural systems and processes intersect to shape health outcomes, access to care and experiences of care. She also uses arts-based methods for knowledge creation and knowledge translation, and for education and social change.
Her current postdoctoral research is focused on the ethical, legal and social implications involved in the use of remote monitoring technologies to enhance safety in rehabilitation and long-term care settings.
Broadly her research interests include: politics of care; mental health and stigma; gender based analysis; lgbtq health; occupational health and safety; science and technology studies; ethics, law and health policy; cultural imaginaries of health and disability.
Sample Publications
Grigorovich, A., Fang, M. L., Sixsmith, J., Kontos, P. (2018). Defining and evaluating transdisciplinary research: Implications for in aging and technology. Disability and Rehabilitation: Assistive Technology. https://doi.org/10.1080/17483107.2018.1496361.
Kontos, P., Grigorovich, A., Colobong, R., Miller, K.L., Nesrallah, G., Binns, M.A., Alibhai, S.M.H., Parsons, T., Jassal, S.V., Thomas, A., Naglie, G. (2018). Fit for Dialysis: A qualitative exploration of the impact of a research-based film for the promotion of exercise in hemodialysis. BMC Nephrology, 19, 1-11 https://bmcnephrol.biomedcentral.com/articles/10.1186/s12882-018-0984-4
Grigorovich, A., Kontos, P. (2018). Advancing an ethic of embodied relational sexuality to guide decision-making in dementia care. The Gerontologist, 58(2), 219-225.
Kontos, P., Grigorovich, A., Dupuis, S., Jonas-Simpson, C., Mitchell, G., Gray, J. (2018). Raising the curtain on stigma associated with dementia: Fostering a new cultural imaginary for a more inclusive society. Critical Public Health.  https://doi.org/10.1080/09581596.2018.1508822
Grigorovich, A. (2017). A queer aesthetic: Representations of gender and sexuality in Sadie Lee's 'Tomboys and Crossdressers.' Queer Studies in Media & Popular Culture, 2(3), 293-308.
Grigorovich, A., Stergiou-Kita, M., Damianakis, T., Le Dorze, G., Lemsky, C., Hebert, D. (2017). Persons with brain injury and employment supports: Long-term employment outcomes and use of community based services. Brain Injury, 31(5), 607-619.
Stergiou-Kita, M., Grigorovich, A., Damianakis, T., Le Dorze, G., David, C., Lemsky, C., Hebert, D. (2017). The Big Sell: Managing stigma and workplace discrimination following moderate to severe brain injury. WORK: A Journal of Prevention, Assessment & Rehabilitation, 57(2), 245-258.
Grigorovich, A. (2015). Negotiating sexuality in home care: Older lesbian and bisexual women's experiences in home care. Culture, Health, & Sexuality, 17(8), 947-61.
Macdonnell, J.A., Grigorovich, A. (2012). Gender, work, and health for trans health providers: A focus on transmen. ISRN Nursing, 2012, 161097. https://www.hindawi.com/journals/isrn/2012/161097/