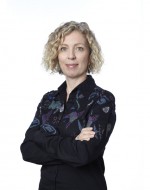 Associate Professor, Bloomberg Faculty of Nursing and Dalla Lana School of Public Health
Former Director (2014-2018), Centre for Critical Qualitative Health Research (CQ)
University of Toronto
Health Sciences Building, Suite 130, 155 College St.
Toronto, ON, Canada M5T 1P8
Phone: (416) 978-4953
Email: denise.gastaldo@utoronto.ca
Websites
To view Denise's profile within the Faculty of Nursing at the University of Toronto, please click here.
To view Denise's profile within the Dalla Lana School of Public Health, please click here.
Denise's profile with GICS is available here (the website link that follows is in Spanish).
Denise's project, "Health Consequences of Gendered Economic Migration: The Case of Undocumented Latin American Workers in Ontario" can be viewed here.
Biosketch
Denise is the former director of CQ (2014-2018), an associate professor at the Bloomberg Faculty of Nursing and the Dalla Lana School of Public Health, former Associate Dean, International at the Faculty of Nursing (July 1 2006- June 30 2008), and a member of the Nursing doctorate program at the University of Toronto.  Dr. Gastlado is also a member of the international research group GICS – Critical Health Research Group at the Universitat de les Illes Balears, Spain.
She has been a researcher, teacher, supervisor, advisor and reviewer for qualitative research in several countries, but most of her work has been divided in contributions to Ibero-American and Anglo-Saxon academic and community organizations.
Through CQ, Denise has hosted national and international visiting scholars interested in exchanging ideas on how to teach qualitative research in the health sciences at the postgraduate level. As a PhD committee member or supervisor, she has worked with over 25 doctoral students undertaking qualitative research.
Denise has been the co-creator, with Joan Eakin, of the Essentials of Qualitative Research Series. For the last 8 years, they have been delivering an integrated, interdisciplinary postgraduate qualitative research curriculum through several departments and faculties at the University of Toronto.
Research Interests
As a researcher, most of Denise's work relates to participatory, action and community-based methodologies, hence her interest in knowledge translation and exchange issues and creative methods. She has used such approaches to study gender and migration as social determinants of health with an increased focus on postcolonial theory. For a sample of Denise's research studies, this link offers research reports, videos, methodology guidelines, and advocacy tools on immigrants' health issues.
CQ Teaching
As an instructor for the courses NUR1024 ("Foundations of Qualitative Inquiry") and NUR1028 ("Introduction to Qualitative Research"), Denise has educated (at U o fT alone) approximately 200 Master's and PhD students on theoretical foundations and methodological approaches to qualitative research in the health sciences.
"I truly enjoyed your class and teaching method – I started off the semester being quite unsure about qualitative research, being in health care and working in critical care I am typically exposed to quantitative research. (…) However you changed that, and that, in my mind at least, is the sign of an excellent teacher. I quite like your teaching style – you tell it like it is and allow students to express they're opinions. You encourage discussion and constantly found ways to engage the class (even if it was challenging some days), the variety of teaching methods were very much appreciated (…). I also found all your examples very relatable, you took the time to ensure that we understood (at the beginning level) some difficult concepts and methodologies. I suppose the true sign of a successful instructor is that you have inspired me to engage in my own qualitative (…) research project." – Master's student, Winter 2015, NUR1028
Work developed in Spanish and Portuguese
Denise's work in Spain and Latin-America has been mainly related to postgraduate studies and continuing education for health researchers.
Since 2002, she supervised several PhD theses from the University of Balearic Islands, Spain, which were informed by critical and poststructuralist theory.  A decade of supervision work has helped to create a cadre of researchers who explore socially-relevant health phenomena, including power relations in health care, changes to the health system, migration and gender as social determinants of health, and the impact of nursing work to population health.
Still during the last decade, she has taught many workshops on qualitative research in countries as diverse as Australia, Nicaragua, Sweden, and Mexico. Some of the projects developed by former students evolved into funded research projects in which she has played a role as methodological advisor. For instance, after a qualitative research workshop she taught to nurses from the former Area 6 of Madrid's Primary Health Care System, practitioners have conducted a participatory-action research to evaluate the quality of home care in urban, peri-rural, and rural settings. As a result, they proposed strategies to increase the continuity of care among professionals and family caregivers and implement guidelines for better clinical, emotional and social care for home-bound elderly and dependent people.
Another form of promoting continuing education she has put forward has been to partner with other Ibero-American researchers to organize the Ibero-American Qualitative Health Conference. So far, they have had bi-annual congresses in Mexico (2003), Spain (2005) and Puerto Rico (2008), Brazil (2010), and Portugal (2012) in which Denise has played an active role as organizer, excluding the last iteration.
Denise has also co-edited 2 volumes on qualitative health research in Ibero-America to help to bring together contributions from 17 countries. These books are the first attempt to give identity to the QHR movement in Latin America, Spain and Portugal. They are:
F. J. Mercado, D. Gastaldo & C. Calderón (Eds) (2002). Investigación cualitativa en salud en Iberoamérica. Métodos, análisis y ética [Qualitative health research in Ibero-America. Methods, analysis and ethics]. Guadalajara, Mexico: Universidad de Guadalajara Press (517pp).
F. J. Mercado, D. Gastaldo & C. Calderón (Eds) (2002). Paradigmas y diseños de investigación cualitativa en salud. Una antología iberoamericana [Paradigms and designs in qualitative health research – An Ibero-American anthology]. Guadalajara, Mexico: Universidad de Guadalajara Press (620pp).
In order to bridge the language divide that separates the North-South academic worlds (that is, Southern academics read and cite the Anglo-Saxon production but the reverse does not happen), she has published a few papers with Ibero-American colleagues in English. The following three provide overviews in English about the qualitative health research movement in Ibero-America:
Bover, A, Gastaldo, D, Miró, M and Zaforteza, C (2013). Qualitative nursing research in Spain: An evolving strategy of resistance (chapter 37) in Cheryl T. Beck (Ed). Routledge International Handbook of Qualitative Nursing Research, New York (in press for April).
Mercado, F.; Gastaldo, D.; Bosi, ML.; Carvalho, S.; Wiesenfeld, E.; Sanchez, E. & Fuentes, X. (2008). Health policy and programs evaluative research for social change: An Ibero-American Symposium. FQS – Forum Qualitative Social Research, 9 (2), art 19, May, http://www.qualitative-research.net/fqs/ [published in Spanish and English].
Gastaldo, D., Mercado, F., Ramasco, M., Lizardi, A. & Gil, M. A. (2002). Qualitative health research in Ibero-America: The current state of the science and Investigación cualitativa en salud en Iberoamérica: el estado actual de la ciencia. Bi-lingual publication, Transcultural Nursing, 13 (2): 91 – 109 [Awarded Best 2002 Publication for the journal].