Associate Professor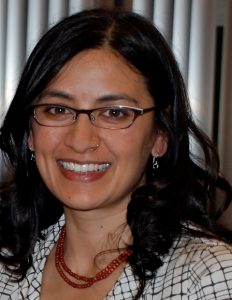 Factor-Inwentash Faculty of Social Work
University of Toronto
246 Bloor Street West
Toronto, Ontario, M5S 1V4, Canada
E-mail: r.bhuyan@utoronto.ca
Phone: (416) 910-8205
Biosketch
Rupaleem Bhuyan is an Assistant Professor in the Factor-Inwentash Faculty of Social Work. She is a second-generation immigrant of Assamese/Indian heritage. She was born and raised in the United States and has lived and worked in the U.S., France and Thailand. Dr. Bhuyan has an interdisciplinary background in International Studies, Cultural Anthropology and Social Welfare.
Dr. Bhuyan's research integrates interpretive policy analysis and community-based participatory action research to address the sociocultural and political context of domestic violence, migration, citizenship and social rights. She completed her doctorate in Social Welfare at the University of Washington, where she took part in several community-based participatory research projects in areas of HIV and domestic violence prevention and intervention. Dr. Bhuyan's current research explores how political pressure to deny immigrant access to public benefits impacts their response to domestic violence and related health sequelae.
Since 1991, Dr. Bhuyan has been part of the anti-violence movement as a peer-rape prevention educator, domestic violence and sexual assault advocate, community educator and community-based researcher. She has worked closely with indigenous, immigrant and refugee communities in addition to collaborations with advocates in organizations serving the general population.
Dr. Bhuyan is currently the principal investigator for the Migrant Mothers Project, a participatory action research project in collaboration with Mercedes Umaña from Women's Health in Women's Hands Community Health Centre. This project builds upon Dr. Bhuyan's previous study of how violence against women shelters respond to women with different types of immigration status (2009-2010). This research is supported through the Social Sciences and Humanities Research Council's Standard Research Grant; an award from CERIS-The Ontario Metropolis Centre, and the Connaught New Researcher Award from the University of Toronto. See the Migrant Mothers Project website for more information.
CQ Teaching
At CQ, Rupaleem teaches SWK 6007H ("Advanced Qualitative Research Methods in Social Work").
"The instructor was committed to supporting my learning and provided appropriate insights and questions that were challenging and that ultimately expanded my knowledge in this area of knowledge." – SWK6007 (formerly SWK6305), Summer 2010
Social Work Teaching
In addition to the above advanced doctoral course on interpretive research methodology offered through CQ, Dr. Bhuyan teaches courses in the first and second year of the MSW program, with an emphasis in the second year Social Justice and Diversity specialization.
SWK4304 Globalization and Transnationalization: Social Work Responses Locally and Globally
SWK4306 Social Exclusion, Marginalization and Resistance
SWK4654 Social Work Practice with Communities and Organizations
Sample Publications
Bhuyan, R. and Velagapudi, K. (In press) From One "Dragon Sleigh" to Another: Advocating for Immigrant Women Facing Violence in the Midwestern United States. Affilia.
Lee, Eunjung and Bhuyan, R. (In press). Negotiating within whiteness in cross cultural clinical encounters. Social Service Review.
Bhuyan, R. and Smith-Carrier, T. (2012). Constructions of migrants' rights in Canada: Is subnational citizenship possible? Citizenship Studies, Vol. 16(2), pp. 203-221.
Bhuyan, R. (2012). Negotiating citizenship on the frontlines: How the devolution of Canadian immigration policy shapes service delivery to women fleeing abuse.  Law & Policy, Vol. 3(2), pp. 211-236.
Park, Y. and Bhuyan, R. (2012). Whom should we serve? A discourse analysis of social workers' commentary on undocumented immigrants. Journal of Progressive Human Services, Vol. 23(1), pp. 18-40.
Bhuyan, R. (2010). Reconstructing citizenship in a global economy: How restricting immigrants from welfare undermines social rights for U.S. citizens. Journal of Sociology and Social Welfare, Vol. 38(2), pp. 63-85.
Bhuyan, R. (2008). The Production of the "battered immigrant" in public policy and domestic violence advocacy. Journal of Interpersonal Violence, Vol. 23(2), pp. 153-170.
Bhuyan, R., Mell, M., Senturia, K., Sullivan, M., Shiu-Thornton, S. (2005). "Women must endure according to their karma":  Cambodian immigrant women talk about domestic violence. Journal of Interpersonal Violence, Vol. 20(8), pp. 902-921.